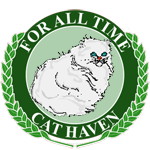 For All Time Cat Haven
Telephone: (707) 464-4121
Visit our website
For All Time Cat Haven is a 501(c)3 nonprofit charity dedicated to providing a lifetime care facility for homeless and unwanted domesticated cats whose owners are no longer able to provide for them.
We focus on providing a comfortable, healthy, uncrowded living environment secure from outside dangers such as inclement weather and predators. We provide the nutritional needs, veterinary care, and treatment as needed to insure the health and well being of the cats no matter what health condition exists. We try to get them adopted if possible into their "forever home" but until that purr-fect home is found they will remain here, happy and loved.
---
Please help us with a tax-deductible donation. Please choose one of the following options:
For All Time Cat Haven is a 501(c)(3) nonprofit charity. All donations are tax-deductible to the full extent of law.